Kim Walker-Smith is one of the most inspirational worship leaders I know of. Her personal testimony of visions Jesus has given her is absolutely amazing. Her voice and musical talent are astounding. And her passion for Jesus is extremely apparent and appealing when she sings songs like How He Loves, Holy Spirit and Freedom Reigns.
And here she is singing about Rudolph the Red Nosed Reindeer:
The song is from Kim's 2014 album When Christmas Comes which includes 17 tracks. Most of them are worship songs or hymns like O Holy Night or Away in a Manger, but then there's also White Christmas, Winter Wonderland and other songs that don't mention the reason for the season at all.
It's quite common that worship leaders release Christmas albums. Matt Redman, Chris Tomlin and Hillsong United have all done it There's even a WOW Worship Christmas Deluxe album with 36 songs out there. And just like Walker-Smith, some singers throw non-Christian Christmas songs into the mix, including Michael J Smith as well as Bryan and Katie Torwalt.
Worship and Consumerism
I don't know about you, but I see some problems with this. First, a song that's featured in both Walker-Smith's and Torwalt's albums is It's Beginning to Look a Lot Like Christmas, which features lines like:
It's beginning to look a lot like Christmas,
Toys in ev'ry store,
But the prettiest sight to see is the holly that will be
On your own front door.

A pair of hop-along boots and a pistol that shoots
Is the wish of Barney and Ben,
Dolls that will talk and will go for a walk
Is the hope of Janice and Jen,
Mom and Dad can hardly wait for school to start again.
This song clearly connects "Christmas feeling" with consumption. And for many, this is how we naturally see Christmas. We get a fuzzy feeling when children get their toys and shops advertise their Christmas products, because we connect that to the warmth and coziness of Christmas family gatherings.
But isn't consumerism the modern civil religion of the West? Isn't shopping malls the modern equivalent of temples that gather people for the rituals that make them go through life? This is what makes it so sensitive for worship leaders to mix worship songs with these songs that are so affirmative to consumerism. I'm not saying that they participate in idolatry, but it's problematic and signals that these worship leaders don't really reflect on the true meaning of Christmas.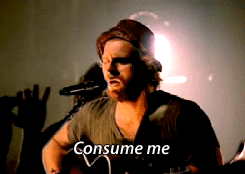 One reviewer even stated that Walker-Smith's album "treats the classic carols and traditional songs with care, adding just the right amount of her own flavor to the songs to make them quite worshipful." Now I ain't want no red-nosed reindeer to be worshipful!
Why Christmas Albums?
There's also the problem of these albums being produced at all. What's the purpose? One could think that's it has some evangelistic value, that the worship leaders want to reach non-Christian audiences and mix Christmas classics with Jesus-centered songs. But there are literally tens of thousands of Christmas albums out there, most of them circulating the same songs.
Almost every popular singer releases a Christmas album, because the unique selling point of these albums is the singer, not the songs. Thus, the vast majority of the people ever listening to Kim Walker-Smith's or Matt Redman's Christmas albums are Christians that already know about these artists and want to hear their particular take on songs they've heard over and over before.
Undoubtedly, there's a demand for these albums, and the worship leaders deliver. And regardless if it's ultimately their decision or their managers', they likely get some money for the effort. Now, am I against that Christian musicians make a living out of their craft? No! But we need to separate worship from having a music career.
When modern worship developed in the early Vineyard movement, people were aware of the risk of it becoming commercialized. Initially, worship musicians were not even allowed to be on stage but performed behind everyone else like organists often do in older churches. Vineyard leader John Wimber famously forbade Vineyard music to spell out worship leaders' names on Vineyard albums.
Some of them were very upset – they were talented musicians after all that hoped to be recognized by the secular music industry. And Wimber was in no way against creative Christians bringing the Kingdom to secular domains, but he didn't want worship to be used as a means to launch a career: worship should be solely about praising God.
As modern worship spread to other churches, the Vineyard's initial restraints didn't mean too much (and they paid less attention to them themselves). Today, the most famous worship leaders that sing on concerts, record albums and attract huge social media following, are pretty indistinguishable from pop stars.
Thus, I think that worship leaders' Christmas albums to a large extent are a result of the commercialization of modern worship. Especially when they include songs that are more or less a celebration of consumerism. Obviously, there is a need to sing Christian songs on Christmas and remind ourselves and others that it's all about the birth of Christ. But if worship leaders continue to do so on this unreflective, commercialized path, more and more people will seriously question what it is that we really worship.
Micael Grenholm is editor-in-chief for PCPJ.
Pentecostals & Charismatics for Peace & Justice is a multicultural, gender inclusive, and ecumenical organization that promotes peace, justice, and reconciliation work among Pentecostal and Charismatic Christians around the world. If you like what we do, please join our Facebook forum, and sign up for our newsletter!