Even though it is difficult to say if hurricane Sandy is a result of weather conditions or climate change, what we do know is that these sorts of natural disasters undoubtedly will increase becuase of global warming. Thus, many see the tragic irony in that the US presidential candidates have to cancel important meetings because of the storm while the climate change issue has been absent in their debates. Instead, the main topic has been how to make the richest country in the world even richer. But in the midst of their passionate discussion concerning economy, GDP, growth and the middle class, Sandy knocks on the door and forces them to stop ignoring nature for a while.
However, it's a bit unfair to speak about both candidates as uninterested in climate change. Even if he has done far from enough, Obama thinks that the issue is important, he is increasing renewable energy and has participated in global climate negotiations. Romney, on the other hand, has a different approach: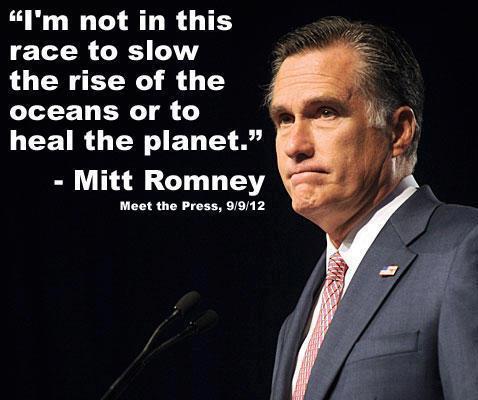 This statement feels kind of stupid in these days when Manhattan is under water. If Romney doesn't want to "heal the planet", does that mean he wants it damaged? How in the world did he come to such conclusion? Furthermore, as a Charismatic Christian, I find it interesting that he clearly says that he doesn't want it healed. If there are any doubts whether this Mormon guy stands for "Christian values" or not, this is sufficient evidence for me that he doesn't. Christians should always want to heal. It is the devil who wants to kill and destroy (Jn 10:10). When Jesus encountered a storm, He silenced it (Jn 4:39).
Therefore, all Christians who read this should pray in Jesus' Name for Sandy to be silenced. But we also need to pray for and help those who already have been damaged by the hurricane. As with most natural disasters, the poor recieve the worst blow. In Western media, there seems to be more pictures of Wall Street being hit by Sandy than Haiti, but the latter suffers devestating consequences because of the hurricane. Not only has over 50 people died; 200,000 are homeless, Cholera is spreading, huge areas of crops are being destroyed and this may lead to a devastating famine.
This Haiti crisis is risking to be forgotten now when the US is being hit by the storm. I'm not arguing that the American deaths and losses have a lesser value – absolutely not. But the fact is that the US is the richest country in the world while Haiti is among the poorest. The former has a greater capability to handle the crisis, while the latter has barely recovered from hurricane Isaac in August or even the 2010 earthquake, and is in desperate need of foreign aid. ACT Alliance, a network of Christian aid organizations, is mobilizing relief for Haiti and their message is clear: they got the skills and tools but lack money. Give an offering to Christian Aid oranother ACT member organization. If Romney doesn't want to heal this broken creation, we'll show him how to do it.