Home » Posts tagged 'Idolatry'
Tag Archives:
Idolatry
This sentence from The Guardian has to go down in history as completely unimaginable concerning a U.S. president just a few years ago:
Over an ensuing half-hour rant, Trump trucked in antisemitic tropes, insulted the Danish prime minister, insisted he wasn't racist, bragged about the performance of his former Apprentice reality show, denied starting a trade war with China, praised Vladimir Putin and told reporters that he, Trump, was the "Chosen One" – all within hours of referring to himself as the "King of Israel" and tweeting in all caps: "WHERE IS THE FEDERAL RESERVE?"
What really concerns me is the "Chosen One" and "King of Israel" part. The Guardian even leaves out something even more disturbing, namely that Trump welcomed the comparison between him and the second coming of God:
A lot has already been written on Trump's apparent pathological narcissism, and the tweets above provide additional evidence that his view of himself is severely disturbed. Any sane person, regardless of their own religious beliefs, would reject any comparison between themselves and the Creator of the universe.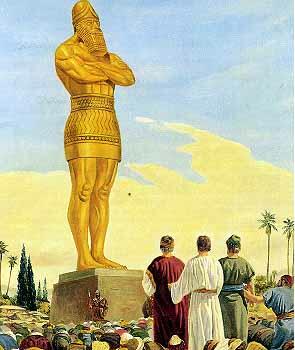 The only people I can think of who actually view themselves as being on a divine level are authoritarian dictators of modern communist countries as well as ancient empires in Biblical times. We read in Daniel 6 how the administrators of Babylonian King Darius suggested to him that he signs a decree stating that "anyone who prays to any god or human being during the next thirty days, except to you, Your Majesty, shall be thrown into the lions' den". Rather than saying "That's outrageous! Do you think I have some kind of god-complex?", Darius finds it to be a reasonable idea and signs it. As a consequence, the prophet Daniel is later thrown into said lions' den.
Even in New Testament times, we read in the book of Acts: "On the appointed day Herod, wearing his royal robes, sat on his throne and delivered a public address to the people. They shouted, 'This is the voice of a god, not of a man.' Immediately, because Herod did not give praise to God, an angel of the Lord struck him down, and he was eaten by worms and died." (Acts‬ ‭12:21-23‬ ‭).
This is obviously not something that happens to everyone who perceive themselves as divine, as we would have got rid of a lot of dictators if that had been the case, but it clearly expresses how serious the sin of pride is. The original sin in the garden was that Adam and Eve appreciated the temptation of Satan, saying that they would "be like God" if they ate the forbidden fruit (Gen 3:5).
I turn now to my Pentecostal and charismatic brothers and sisters who have welcomed and praised Trump, even saying that resisting him is resisting the will of God, and I ask you: where is your condemnation of blasphemy? Surely, that is a sin according to us all? I'm well aware that our views on peace and justice differ, as well as our interpretation of how well the president is promoting such things.
But even if one agrees with Trump's policies, surely him announcing himself as the chosen one and welcoming the description "like the second coming of God" should be viewed as utterly blasphemous? How could it be anything else?
"Dear children, keep yourselves from idols." – 1 Jn 5:21
Reading the prophetic books of the Old Testament for the first time, I was almost a bit annoyed by the constant warnings against idolatry. Isaiah, Ezekiel, Hosea and others constantly bring up how bad idolatry is and how silly idol-worshippers are, bowing down for statues they themselves have made.
I was like, yeah yeah, I get it. Idols are bad, move on please. I thought that not worshipping other gods than God was lesson one of Christianity, the most fundamental ethic of them all, and so constantly repeating it throughout Scripture felt unnecessary. In my view it was as if the driving instructor would constantly remind you to sit behind the wheel when driving an electric car.
Others must have felt the same way, because when the topic of idolatry came up in my church, people started to forcingly convince themselves that they were idolaters somehow. We've all stolen, been jealous or murdered sometime, at least if you define the latter as being angry which Jesus seems to do in Mt 5, and so to make sure that idolatry wasn't something we could just say that we happily avoid, our youth pastor told us that an idol is "everything that you put higher than God". It could be money, sex, power or Pokèmon. And you didn't have to worship it, just immerse yourself into it. (more…)
Ramone Romero is posting the most beautiful, heart-breaking and hopeful artwork and poems I've ever seen, on his blog Wheeping Jeremiahs. He expresses prophetic tears over the political idolatry of many American Christians. I'll let some of his paintings and poems speak for themselves:
My children! My children!
Put down your flags!
I am not calling you to carry
the righteousness of any nation,
but to carry the Cross!
I am not calling you to defeat your enemies,
but to love them as I loved you.
"Do not listen to those who prophesy
in accordance with your flags,
for I have not sent them;
they are prophesying lies in My name
and are following a 'Christ' they have made
in their own image—an 'anti-christ.'
"They do not listen to Me when I speak,
nor do they turn from their pride,
but instead continue to follow their passions.
They have become like brute beasts,
unreasoning creatures of instinct
who revile what they do not understand.
"Do not follow the beast,
but repent and return to the Lamb!" (more…)